We recently got to work with a local steel company to help create samples for the tensile testing of their rolled products. I wanted to look at what the samples were going to be used for once they left the shop.
Tensile Testing measures tensile strength, breaking strength, maximum elongation and reduction in area. There are several variations of these tests, including how the loads are applied across the materials. Below is an example testing unit. The prepared bars are held in the arms and pulled apart.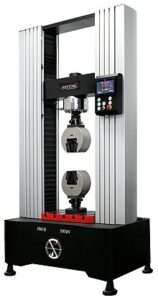 These tests are performed after rolling to ensure uniformity and consistency in the product line.
Other reasons for performing these tests are:
– to find out how well a product will perform
– to see if it meets the client's standards
– to test a new design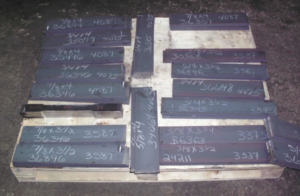 To perform the tests properly, the samples must be prepared for the testing device (tensometer). The ends are wider to be easily held by the device, while the center is cut thinner to allow the deformation and fracture to occur at this point. To help repeatability of testing, the samples must be as similar as possible.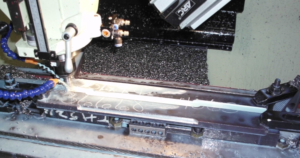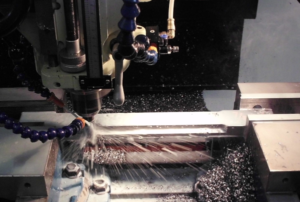 The tester will apply an even and consistent force across the sample until it fractures. The elongation that occurs, as well as the amount of force that was necessary to create it, is used in the final calculations.

These calculations will help with the following tests:
Yield Strength – The point at which deformation in the part occurs.
Ductility – Percentage of elongation.
Strain Hardening – How much the part hardens with plastic deformation (plastic deformation – a yield point, once passed, is some fraction of the deformation that will be permanent and non-reversible)
Modulus of Elasticity – The point where the material will no longer return to its original length and permanent deformation occurs.
Ultimate Tensile Strength – The maximum stress that the material can withstand while being stretched or pulled before breaking.


---
Riggs Machine & Fabricating – Serving industry in KY, OH and WV for over 45 years!