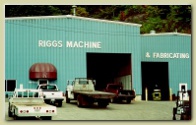 Since 1974 Riggs Machine & Fabricating has been providing quality service to the Coal, Steel, Rail and Chemical industries. Riggs attention to detail and superior workmanship has made Riggs a trusted name.

New equipment and Services

Nov. 4, 2011

Toshiba Horizontal CNC Arrives

Riggs is excited to add this new machine to our lineup.
more details ...

Nov. 4, 2011
Tour our new Inspection Room
Due to the demands of our clients, Riggs has opened a dedicated inspection room.


© Copyright 2012 Riggs Machine & Fabricating, Inc., All Rights Reserved

News and Information

Nov. 4, 2011
Riggs builds loader for Canadian pot ash mines
Riggs working in conjunction with Goodman Industries, has built a remote controlled pot ash miner.

May 22, 2012

See the Mazak 700D 4-Axis VMC in Action!

Another new unit has been added to the facility. And speed is it's name ...
more details ...


Riggs Machine & Fabricating, Inc.
3850 Belford St., Ashland KY 41101
606-324-0090
800-201-3445
(fax) 606-325-9939

March 23, 2012
Steel Mill Roll Turning ...
Riggs offers flat and grooved roll turning using CNC precision.